So, you're working with Salesforce permission sets and you want to compare multiple sets efficiently? Well, that's why we're here!
What exactly are permission sets, you ask? Permission sets are collections of permissions that can be assigned to users, much like roles in a company hierarchy. Now, why would you need to compare multiple permission sets? Perhaps you have similar permission sets that need to be compared for differences or maybe just for security reasons.
Whatever the reason may be, we've got you covered with these helpful tips and tricks to streamline your process. Let's checkout how to compare multiple permission sets below:
IDEA:
For any Salesforce Admin or developer, there is a requirement to mass compare multiple Permission Sets in xls. It would be tedious job to copy and click each Permission Set one by one using Salesforce Standard process.
These type of work requests would take more effort and time, so one of the best option to overcome this situation is by using the this AppExchange app called Bulk Object Field Creator (BOFC)
Benefits of using BOFC Application to "Compare Permission Sets"
Multiple Permission Sets can be easily Compared & exported in single click in single xls sheet. Check sample image.
Comparison includes: Object access, App access, Tab access, User & Administrative permissions, record type details, apex class access, visualforce page access, Field Permissions.
Easy, Simple & 1-click process to Compare & export multiple Permission Sets.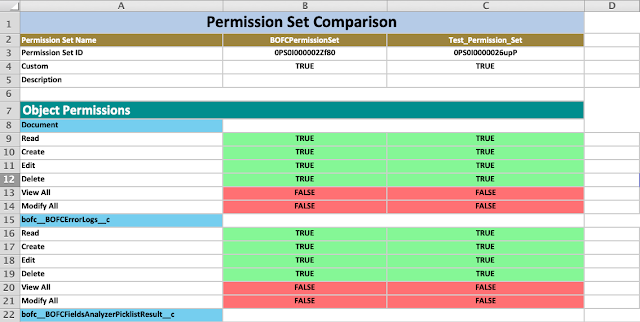 Few Simple Steps to Compare Multiple Permission Sets in Salesforce
1. Open the BOFC Home > Click "Compare Multiple Permission Set (Side by Side)"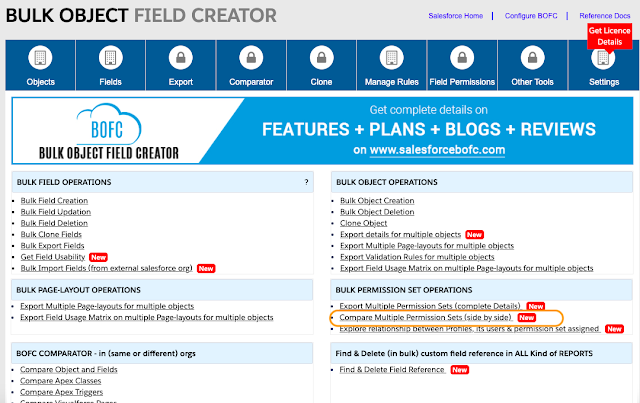 2. It will open below screen for BOFC "Managing Multiple Permission Set"


3. User can choose different actions on above screen. This below image is highlighted with number and has its description as below:

Select single or multiple Permission Sets from the drop down
Select which permission Set components needs to be exported (for eg: Object details, Apex permissions, Record type settings, user permissions etc)
Select "if user wants to export components which are unmanaged or components related to managed packages and unmanaged (both)?
Select "if user wants to export or compare Permission Set"?
Click "Click to Initiate Export" button to export xls file for all the selected permission sets with all the selected components. It will exports single xls (with multiple tabs, one tab for each Permission Set) for all the selected Permission Sets in Salesforce.
The Component list doesn't have object "Fields Permissions". To export or update Field permissions for Multiple objects and multiple Permission Sets use the "Click Here" link to open the field permissions page
4. On clicking "Click to Initiate Export" button, it will display a small section on the page. This section show the status of your export for multiple Permission Sets Wait for couple of seconds, until status is changed to "Completed" in the export status table.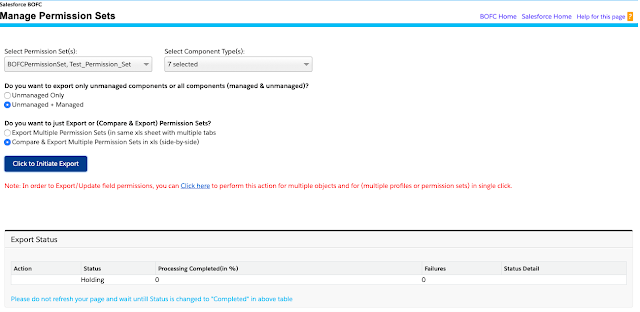 Status: Shows if process got completed or not
Processed: Shows no of permission sets which are successfully processed
Failure: Shows no of permission sets which got error out
5. Once status is "Completed", your file is ready for export. Click on "Download" link to download your Comparison sheet of Permission Sets in xls.
"Click Download Link" : On clicking this link, it will download a xls file for all the selected Permission Sets in Side-by Side format.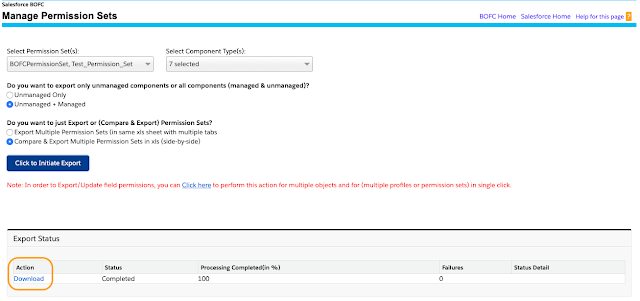 ***************************************************************************************************************************
Note:
To avail this feature, kindly make sure you have installed the latest version of the application. You can upgrade your package using either of two ways:
In Salesforce, go to "BOFC Home > Settings > App Version > Click to Upgrade"— or —
Refer to the mentioned link to quickly upgrade your package to the latest version and explore its complete benefits:
https://www.bofc.io/release-notes/
Looking for more exciting content like this?
Ayan Softwares provides quality Salesforce content written by Top Salesforce MVP's and Admins
Explore All Blogs