Salesforce flows are powerful tools that enable businesses to automate complex processes, streamline workflows, and enhance user experience. With the ability to create custom flows tailored to specific business needs, Salesforce allows users to maximize efficiency and productivity. However, when faced with a scenario where multiple flows need to be replicated or cloned, the manual process can be time-consuming and prone to errors.
In this blog, we will explore a step-by-step guide on how to clone multiple flows in Salesforce, saving you valuable time and effort.
ABC Company is using Salesforce to manage its Sales, Service Cloud activities. They have lot of Flows which are being used to automate / schedule the business processes.
ABC Company is expanding its business and want to setup a new Salesforce org (Org 2) which is replica of existing Salesforce org (Org 1). In order to replicate, they need to perform multiple activities like:
Clone Custom Objects & all of its custom fields, validation rules, Page-layouts, Record types
Refer this article to perform this action in few clicks:
https://bofc.io/clone-operations/how-to-clone-object-in-salesforce-in-few-clicks
Clone Reports (with Report Types & Report Folders)
Refer this article to perform this action in few clicks:
https://bofc.io/clone-operations/how-to-clone-reports-in-salesforce-in-few-clicks
How can I Clone Multiple Flows from selected org to current Org?
As both the orgs (Org 1 & Org 2) are not inter-linked to each other, Alex (an administrator of ABC Company), will have to manually copy each and every entities and complete his action.
For eg: In case, if a developer has to clone a simple or complicated flow with many conditions, filters etc, then admin would have to open each and every flow and clone them to new org.
These type of work requests would take much more effort and time, but with our Salesforce Appexchange Bulk Object Field Creator (BOFC) App user can clone multiple flows within "Current Salesforce org" or from any "External Salesforce org" in few clicks.
Benefits of using BOFC Application to Clone FLOWS:
User can clone any type of Flows (Auto-Launched, Record-Trigger, Schedule Trigger, Screen Flow etc) using BOFC
This feature has option for a user to choose whether they need to skip any existing flow or do they need to create a new version of existing flow.
User can clone Flows from Same or External (non-linked) Salesforce org
Simple Point & Click UI only.
Few Simple Steps to Clone Flows in Salesforce
1. Open the BOFC Home > Click "Clone Flows"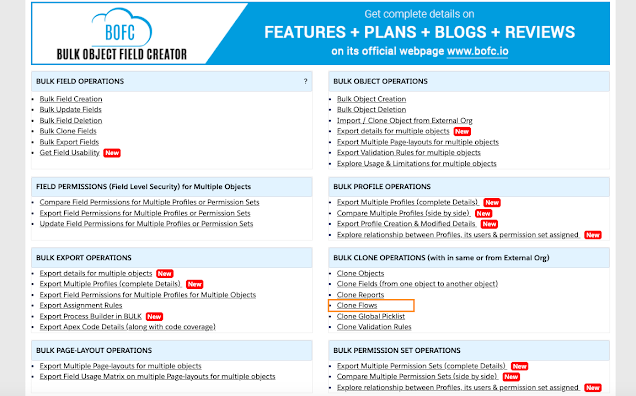 2. It will open below screen for BOFC Clone Flows
User can clone the Flows from different type of source orgs:
Can clone from "Current Salesforce Org" in which BOFC is installed
Can clone from "External Salesforce org" (Salesforce org which are linked / non-linked to current org in which BOFC is installed)
3. Select the "Source Org" from where you want to clone the flows

4. Click "Fetch Active Flows" button and it will start the process to retrieve the "Active Flows in the selected Org. Once status is "Completed", click on "View Results"

5. Select (single or multiple) flows which needs to be cloned. Once ready, click on "Clone Selected Flows" button to initiate the process.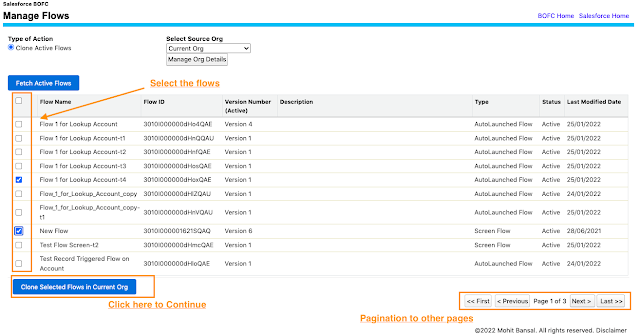 Once this blue button is clicked, it will open a popup with some instruction in it. Just follow the instructions and you are done.

Append Flow Name – User can add any keyword in the Flow Name. If user leaves the field blank, then nothing will be added to the flow name.
Status – User can choose the status for the new flows. They can mark the new flows as "Active" or "Draft"
Type of Action – In case the flow with same already exists:

SKIP the flow = In this case, the clone process will skip the Flows which already exists
Clone & Create Next Version = In this case, the clone process will create the new (next) version of the existing flow
6. Once the "Clone Selected Flows" buttons is clicked, it will update the status against each row for all the flows.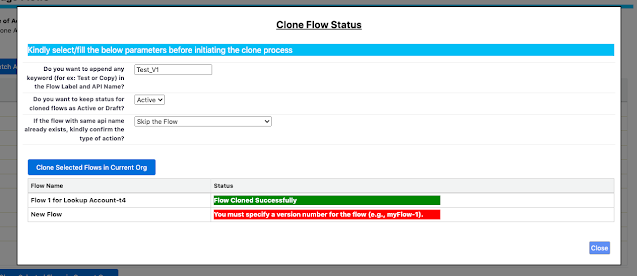 Looking for more exciting content like this?
Ayan Softwares provides quality Salesforce content written by Top Salesforce MVP's and Admins
Explore All Blogs